The Team
GET TO KNOW OUR TEAM
STEVE BRYAN - Founder, Program Director

Former division two collegiate soccer player, with over 13 years' experience in training athletes. Over time he started to realize that many athletes lacked strength, balance, coordination and agility that is required in sports. He began researching through various resources and organizations and became heavily involved in developing and conducting speed and agility clinics for several local organizations.
In 2010 he joined D1 Sports where he was responsible for designing and delivering training programs for several local organizations. During his tenure at D1, he also had the opportunity to design and deliver a one hour session with Heather Mitts, Olympian and member a of the USA women's soccer team. He is currently the strength and conditioning consultant for the Royals Lacrosse organization located in Cincinnati.

Qualifications:
• Certified Speed Trainer
• NASM -CPT
• National C license ( US Soccer Federation)
• NSCAA – National Diploma

Achievements:
• Coaching his u17 soccer team and winning the Ohio Cup National championship in 2012.
• Trained and mentored over twenty athletes, that are currently playing at various division one and two college programs.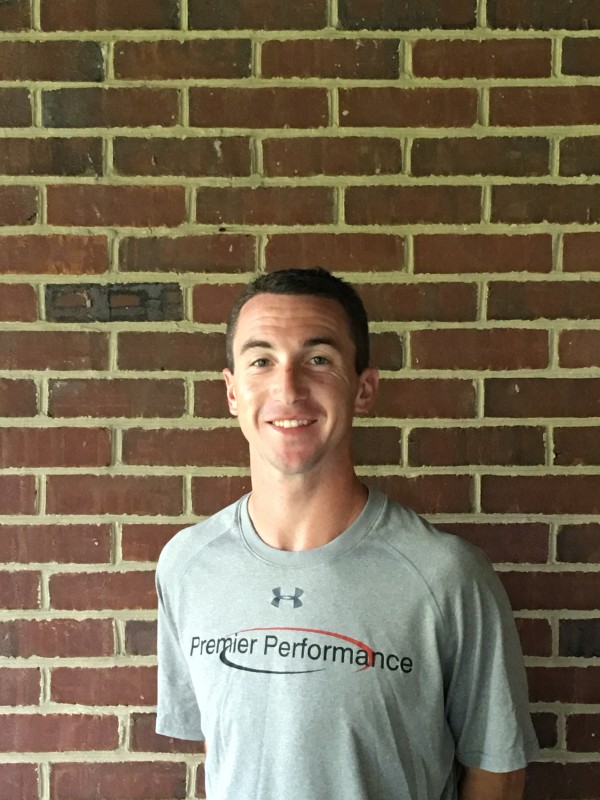 CONNOR CARROLL
-

Assistant Director of Training
Connor joins the Premier Performance Training Team with an extensive background in sports. After graduating from Moeller High School in 2008, Connor went on to play DIII lacrosse at Lynchburg College, in Lynchburg, VA. From there, Connor transferred to the University of Dayton, where he also competed as a student-athlete, earning honors as a 1st Team All-American Midfielder for the Flyers, both in 2011, and in 2012.
Aside from his playing days, Connor served as the Offensive Coordinator for the Indian Hill High School Boys Varsity Lacrosse Team, and most recently served as the Head Coach for, Indian Hill High School JV Men's Lacrosse Team. Connor is also involved with the Cincy Royals Lacrosse Club, where he has held numerous coaching positions, and is currently entering his 8th Summer Season with the Royals.
Connor is extremely dedicated to his clients, and is committed to making them better athletes, as well as people. Given his experience, Connor will focus on designing and implementing speed and agility training programs, as well as lacrosse (stick work and fundamental) training.

Experience & Certifications:

Head Coach – Indian Hill High School JV Men's Lacrosse Team
Offensive Coordinator – Indian Hill High School Men's Lacrosse Team
Assistant Head Coach – Cincy Royals Lacrosse Club
NFHS Certified
Concussions in Sports
First Aid, Health and Safety
Fundamentals of Coaching
Pupil Activity License
Certified Personal Trainer – National Federation of Personal Trainers
KELSEY GAFFNEY
-
Performance Specialist, Nutrition Consultant, Personal Trainer
Kelsey has played soccer since she was 8 years old. She played Varsity soccer all 4 years at Goshen high school, as well as being honored as Valedictorian of her graduating class. She was a captain her senior year of high school and also played for CSA (Cincinnati Soccer Alliance) her junior and senior year. Along with soccer, she participated in Varsity basketball, track, and cross country. After high school, Kelsey attended Northern Kentucky University where she ran Division 1 Cross Country and Track. At NKU, she was also part of the club soccer team for 3 years and was President of the team for 2 years. She still continues to play recreational soccer weekly.


Experience and Certifications:
Head Women's Soccer coach at Goshen High School
Track and field distance coach at Goshen High School
Assistant soccer coach at Finneytown High School
Certified Personal Trainer- National Federation of Personal Trainers
NFHS Certified
• Concussions in sports
• First Aid, Health, and Safety
• Fundamental of Coaching
• Ohio State Component
• NSCAA- High School Diploma
• 4 years experience in health and wellness coaching in nutrition and meal plans